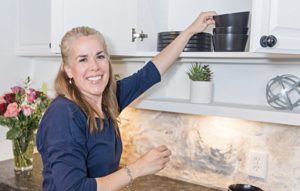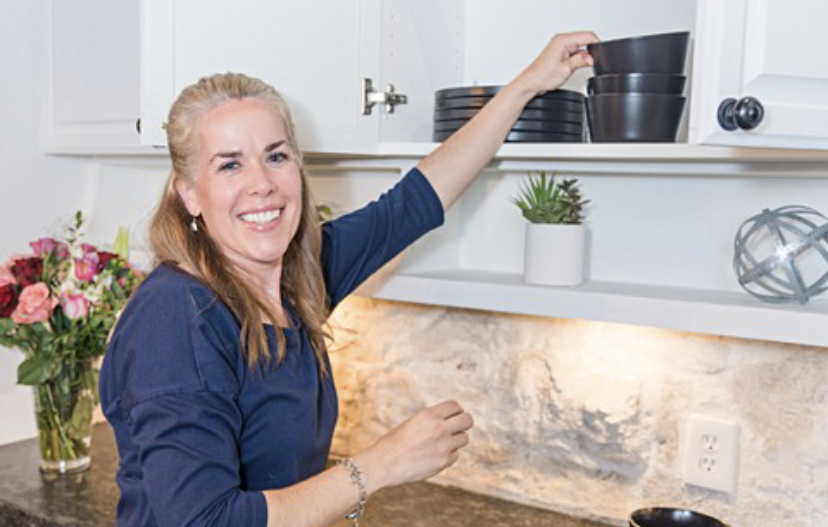 Uncategorized
Question: I have so many things that have value & can be sold. However, that takes time & energy that I don't have. My husband
Read More »
To truly order your life...
Would you be surprised to know that organizing isn't just about the outward appearance of your home?
My dear friend and mentor, Vicki Norris says:
"What's happening in our physical world is actually manifesting what's going on in our internal world.
It's not enough to just organize a space.  To truly order your life you must address disorder in every area of your life!  Household, work, finances, health and spirit!
We show up like Nancy Drew looking for Clutter Clues.
We are holistic organizers and what that means is that we care about the whole you!! We care about the entirety of who you are and desire to encourage you in life's journey.
Yes, we can unpack and organize your home. We can clear your countertops, place your towels and toiletries to be functional and pretty. 
We're not counselors. Well, not all of us on the team are counselors.  But we can talk to you about the importance of choosing to walk in forgiveness to have healthier relationships.  The importance of meal planning and budgeting to create boundaries and margin for increased peace.
Allow me to talk about the other ways we can serve you.  We've been doing this all along, we're just ramping up our initiative and giving it a name: "holistic organizing."
This simply means we first listen to what's going on in your life, your struggles and your goals.  We then create a system based on your specific personality, needs and goals.  This system is designed to reflect your priorities, style and schedule. 
To be successful in the organizing efforts, we need to look at the big picture, not one tiny section of the frame. The system we design will be more complete making your items more accessible. 
Productivity: We can aid you in making better decisions with your time allowing you to prioritize priorities.  Once you articulate your strengths, weaknesses, time constraints and overall schedule we can suggest modifications to your schedule that will maximize your efforts and increase efficiency, margin and rest.
Meal planning, budgeting:  We can coordinate reservations, dinner deliveries, laundry services and point you to helpful resources that can make family meals together possible and achieving financial goals possible.  We have a list of preferred service providers in the event that our team can't personally accommodate a need in your life, we know someone who can!
Relationships:  We can speak life, encouragement and hope to all areas of your life including how you respond to and react to others in your life.  As we work together the topic of relationships inevitably comes up and we listen well and gently motivate you toward a favorable outcome which begins with you.  Our perspective on relationships comes from (in part) the best selling book "How to win friends and influence people" by Dale Carnegie.  
Common mistakes people make when decluttering are:
Doing too much at once

Buying products before starting the decluttering process

Not planning beforehand

Micro Organizing and Procrastination  -Starting with "the minutiae" the small insignificant things instead of Macro organizing which is working with the larger picture and sorting my broad general categories 
What causes Clutter? The outward (visual) answer is:
Over buying

Lack of time

Not having a routine

Mindless Shopping
But the REASON behind these behaviors that lead to clutter varies vastly by the individual.
We listen to you as you articulate what's important to you during this season of your life. What are the obstacles that are holding you back from being organized so we can identify and remove them once and for all.  
This means mastering strategies to speed up and simplify the organizing process so you're sure to reach the finish line and not quit halfway there.
Question:
I have so many things that have value & can be sold. However, that takes time & energy that I don't have.
My husband says donate it all. I hate to give away hundreds of dollars in stuff. Any ideas on how to go about this? I'm not a hoarder or anything but I have a hard time letting go of things that actually have value. 
Amanda's Answer:
After we sold our house prior to moving, I personally did whatever I had to do to get the stuff out of the house. I took some items to consignment, held a yard sale, donated a lot, and tossed the useless stuff. I knew the house would be easier to maintain, but I had no idea exactly how much easier it would be – the difference is like night and day! Get the stuff out however you can. The money was already spent, and you got your use out of it.
For items of true intrinsic value: 
Click here: Top Luxury resale
Three Steps to Organize Any Space
Start Small.
Just take one little baby step toward your organizational goal. Perhaps today it's your car, pantry or your nightstand.
1. Empty
Simply clear the space of all its contents. If you are working with a very large space you can do this step in segments, working only with a given section of the room.
2. Sort and Purge
Decision Time! If you don't love it or use it, toss it! Less really is More. Clutter creates physical and mental clutter. Your sort piles may include:
"Trash"
"Shred"
"Donate"
"Sell"
"Relocate"
"Belongs Here"
3. Replace
Put all the items that you love and use back into the space and you are finished!
Store Items Where You Use Them
I call this concept "First Point of Use." Storing items near where you use them, saves time, effort, energy and perhaps even sanity. Well, let's just say, it keeps things simple and I like simplicity!
Years ago, I was visiting a family member and I simply could not find the trash bags because they were stored 6 feet away from the trash can, on the other side of the kitchen. I shared the "store-it-where-you-use-it" idea and the bags were relocated closer to their first point of use, saving steps and saving time.
More recently, I was organizing for a client that was seeking kitchen/pantry organization. As I observed how the family used/returned items, it became clear that the cereal boxes needed to be stored directly at the pantry entrance, as opposed to the very back. This offered ease of use for the kids to quickly grab and return the boxes.
A Place for Everything and Everything in its Place.
Once you have identified where items belong, work as a team to put everything back where it belongs immediately after use. At my house, I frequently say "clean and clear" which means "put everything where it belongs, we're about to eat dinner." Do it daily; do it together! Don't assume all the responsibility for your home's organization, it robs your children of learned responsibility. Get them involved; delegate!
Living in chaos can be overwhelming! But living a life of order can be freeing! You CAN do it!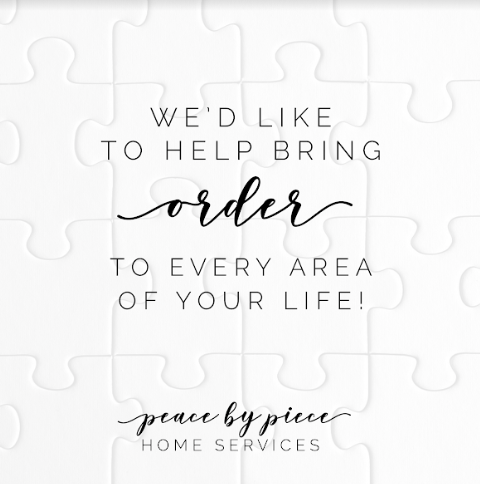 Every Client Receives A Custom Organizing Action Plan
Elevated service begins with your initial interaction with Peace By Piece Home Services.  After an in-home Needs Assessment, a customized Action Plan, outlining our prescribed approach and methodology for achieving your organizing goals is provided to each client.  
The singular, most important thing you can do to motivate them to keep their room tidy is to get them to own it. If they can take ownership, I believe it will be a game-changer!
Tell your kids their room is like their own little apartment. It is. Now help them (again) get it in order so they can keep it that way. Here's what I do:
Empower kids to make wise choices.

If kids are allowed the freedom to choose what stays, what goes, and even how to arrange and decorate their room, they will better care for and respect their belongings. The more "power-to-choose" you delegate to them in the area of their personal belongings, the more they'll want to maintain order.

That's exactly what happened to me with my middle child. He is creative and inventive and actually likes order, but he was consistently struggling to keep his stuff off the floor. Suggesting the idea of his room as his "little apartment" seemed to help him take pride and ownership of the appearance of his space. His floor has been "clean and clear" (for the most part), with a little coaching and reminding.
Get rid of stuff:
The common problem in every kid's room I have ever seen is too much stuff! Their room is overflowing with all kinds of toys, books, clothes, shoes, accessories, collections, and just plain trash! Often there is a mix of clean and dirty clothes on the floor, along with a mixture of all the items mentioned above. If their room is in chaos and disorder, they won't want to spend any time in there and neither will anyone else. Get rid of surplus stuff. They probably can't keep their room tidy because there are far too many things in it. Help them with this mass exodus of junk by setting aside an afternoon to liberally purge by category:
Clothes: Get all the dirty clothes out. Pile all the clean clothes on a clear "palette" (the bed). Sort through each article and make a decision. If it fits and if it is loved, place it in the "keep" pile; If not, toss it into their donation box. Don't get hung up on how much you paid for it; it no longer works for this child so it must go. If possible, hang all shirts and tops. It is helpful for kids to visually see everything they own if it is hung, ideally low enough for them to reach independently. Put smaller clothing items in labeled drawers.

Toys, books, games, shoes: Working with one category at a time, put all items in a pile in the center of the room and quickly sort: donate, trash, keep. Anything that is broken, has missing pieces, is outgrown, or unloved has to go. Only keep what is loved and used. Your child will find it much easier to care for the remaining items and keep the room tidy after this big purging process.

Paper: Most paper in a child's room can go straight to "file 13"; the trash. However, there are those "treasures" that they'll want to hang onto. In my home, we do two things with the "keep" papers. We'll hang them or put them in their 3-ring binder of keepsakes. They choose what is kept and whether it is displayed or stored. The wall space acts as a natural boundary limit. If there's no additional room to display, then something needs to come down. I also suggest using the furniture in the room to create physical boundaries for their items (i.e. when the lid on the toy box no longer closes, it's time to get rid of some things and no new toys can enter the room).
The last thing they need is MORE. But I'm going to suggest it anyway! Add a trash can, a laundry basket, and a donation box for items they no longer want. Don't worry, you'll discover plenty of room for these potentially bulky items after you reclaim this space, but they can also be placed out in the hallway near their room.
Bottom line: Encourage your kids to "own" their space and give them the freedom to make decisions about their stuff. Give them guidance and boundaries using existing furniture in the room to set physical limits and "maximum capacity" for their stuff.
And lastly, give grace. Progress over perfection. The goal is to empower our kids not to control them.
Happy organizing and happy parenting!
Let's talk about kids' artwork.
The amount can be overwhelming! What should you do with it all? Most school paperwork can just be recycled but what about the treasured pieces? It can add up over the years, especially with multiple kids in the house, as we have.
This is what I do: I let my children decide on the "keepers" and display them on their bedroom walls using thumbtacks or frames until the space runs out. Then I pull down the old art to make room for new, incoming artwork.
The older treasures can either be recycled or placed in a three-ring binder for safekeeping and easy viewing.
Be sure your kids put their name and the date on their papers so you'll know who painted it as well as how old they were at the time, which makes it more meaningful. A printed name and date are so helpful!
If you don't have the time to put it all into notebooks, at least store the nicer, quality pieces in bins to protect them from being damaged until you can frame them. 
I know a friend who had two of her son's large pieces of artwork framed in large matching matted frames and hung them in her dining room. They look lovely. What pride the child must feel to have their masterpieces on display!
Remember you can also give their artwork as gifts to the grandparents.
May all the projects, papers, and artwork your children produce be a blessing to enjoy and display – not clutter!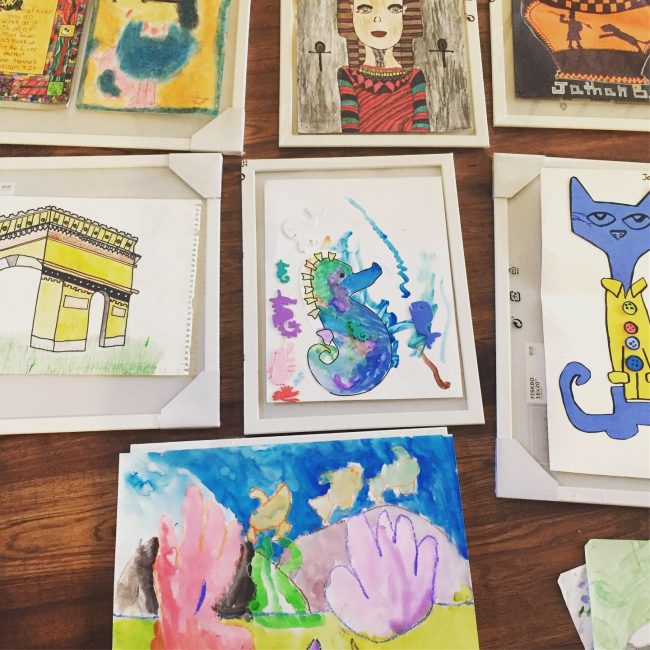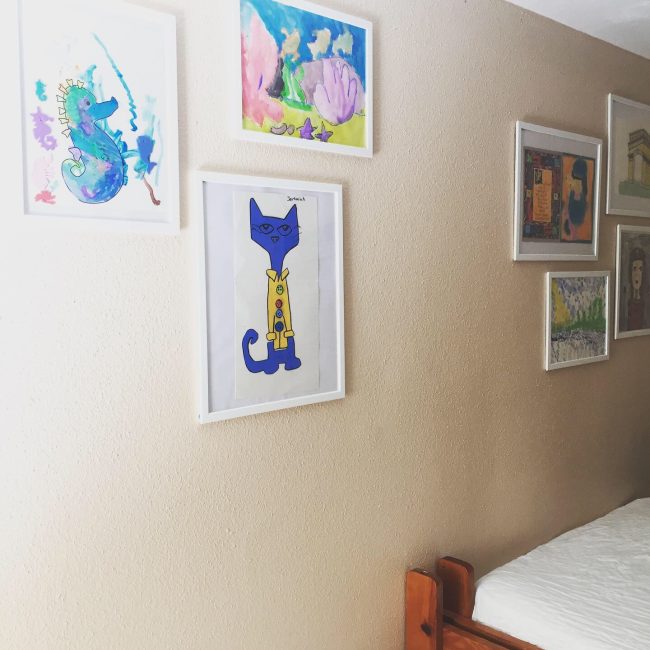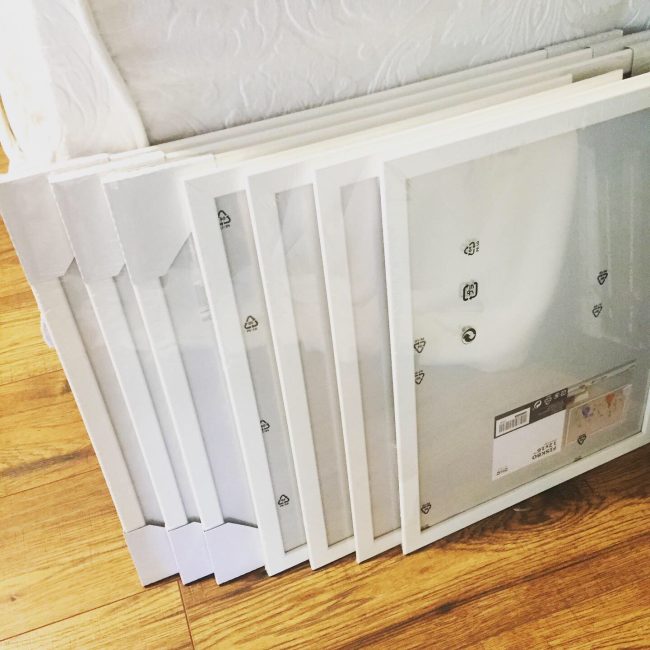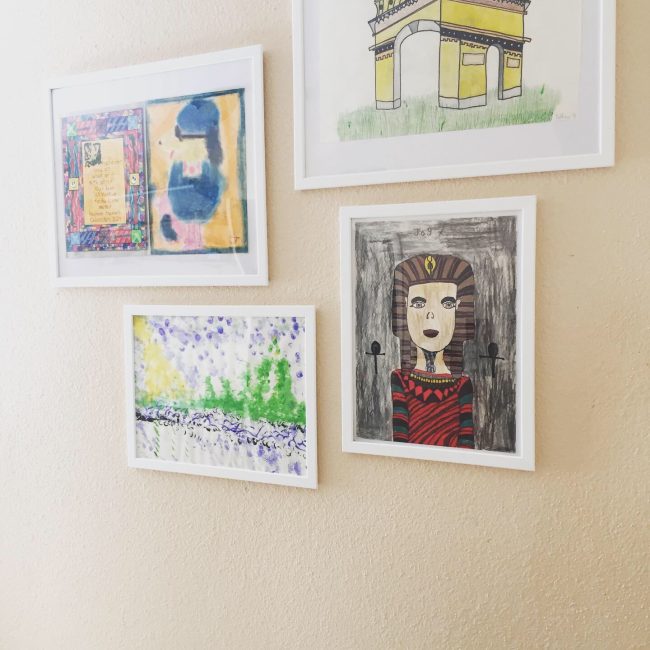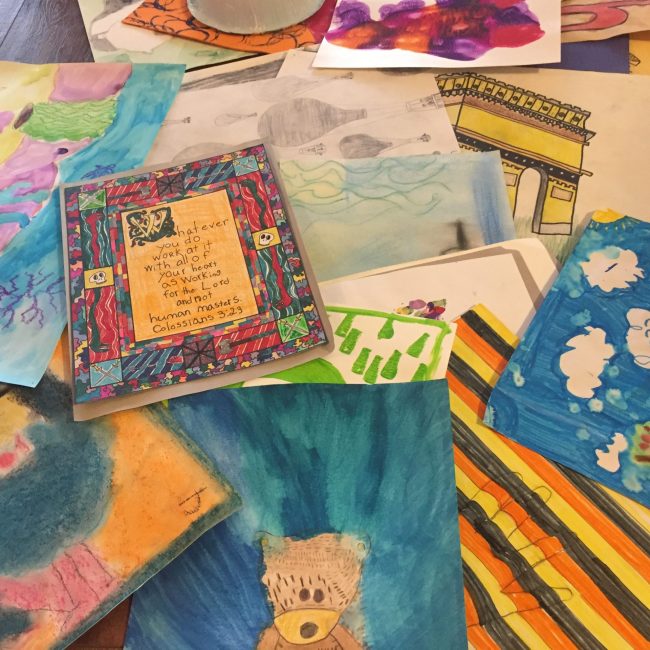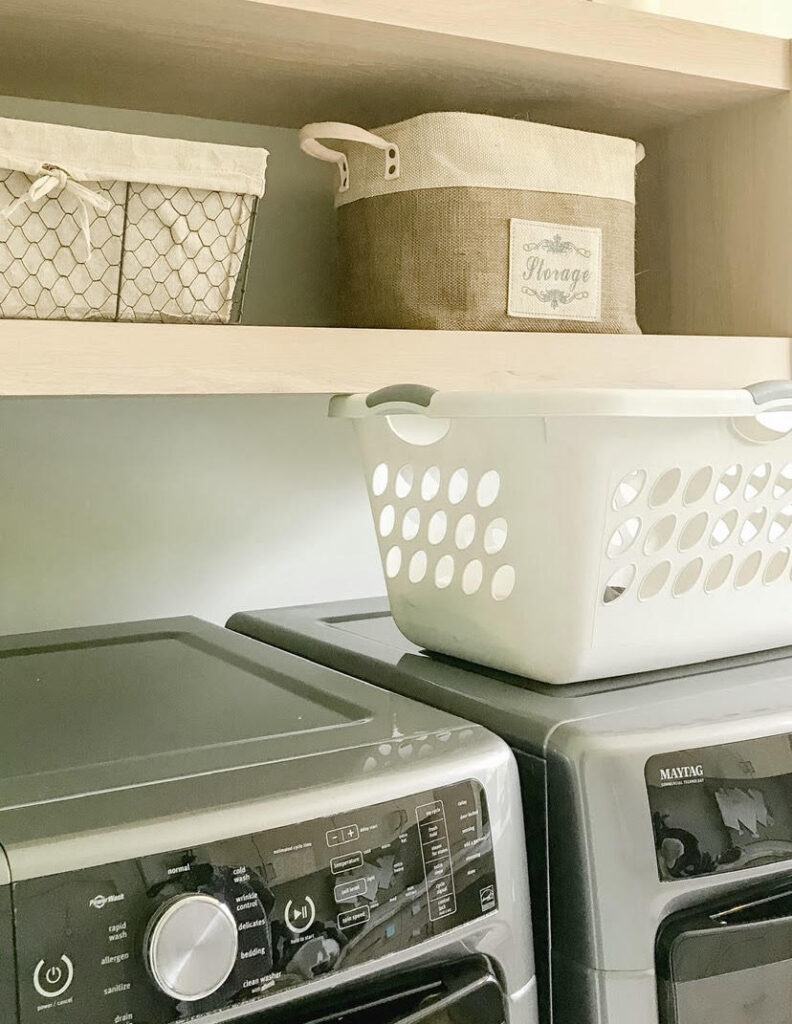 Time yourself: How long does it take you to fold (or hang) and put away all the clothes in the dryer?  Probably 10-15 minutes. 
The point of this exercise is to realize how little time it actually takes.  We can do anything for a short period of time.  Fight procrastination with the fact that it will only take a matter of minutes.
Make it a game: The is a game called "search and rescue."  Find all your clothes and put them where they belong in 7 minutes. 
Changing clothes:  Do you tend to drop or toss clothes when changing? Wherever you notice piles accumulating on the floor, that's where you need a basket or hook to "catch" the clothes. 
Like dishes and laundry, If you take care of processing your paper regularly, you won't have to devote a large chunk of time to deal with the pile-up.
Eliminate as much paper as possible. 
Advertisements and junk mail should go in the recycle bin immediately!
Establish a processing system for all your current incoming paper.
Gather. Sort. Contain.
1. Take action – To Pay, To Read/Respond
2. File (only essentials)
3. Recycle 
4.Shred
5.Reference
Most everything can be accessed online. 
I personally don't keep copies of anything like paid bills so no need to scan or shred. 
Establishing a routine and carving out time to process your paper will prevent pile-up and alleviate overwhelm
I have observed that incoming paper tends to land on your kitchen table.  This is probably because it is one of the closest horizontal surfaces as you enter your home.
I recommend adding a piece of furniture near the front door or near the kitchen table for "command central."  An ideal piece would have drawers and cabinets to discreetly contain your incoming paper. Consider assigning an "inbox" for each family member. It's perfectly fine to shove your paper in a basket or drawer if you regularly make time each week to take action on the accumulation. 
School work/Art work:
I have purchased a larger plastic bin to contain incoming artwork.  This should be purged annually and "keepers" can be hung on the wall or stored in a three-ring binder in page-protectors (labeled with the school year and age). Reviewing his "masterpieces" with daddy should be an enjoyable experience for Ian at the end of each school year. His framed artwork would make a great gift for his grandparents!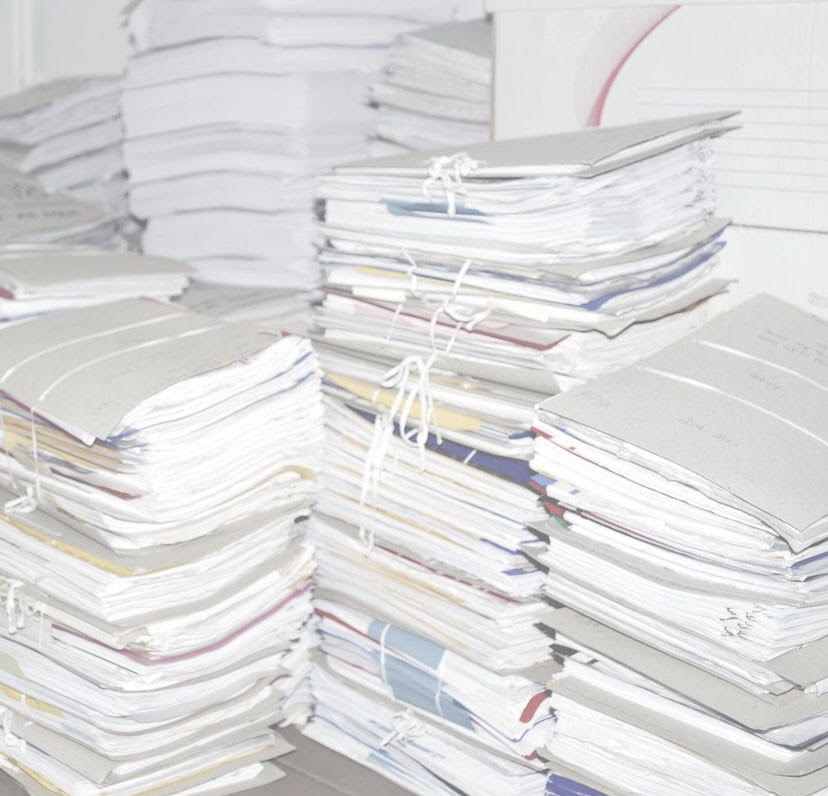 Easily see what you own  and maximizes space with "file folding" File folding is storing clothing in rows rather than stacking one item on top of another and storing  horizontally.
The benefits are 1) items can easily be seen. 2) An item can be retrieved without messing up the others 3) more items will fit into the space.
Shirts were added to this drawer and there's still room to spare. 
It amazes me how excited kids get when order is introduced to their spaces. This particular kid loved it so much, he's kept it this way! Let's teach our kids organizing skills they can carry with them into adulthood. Their future spouses will thank us!
Our food pantries contain all kinds of things. If yours feels too congested or too small, identify opportunities to relocate non-food items elsewhere. 
Store like categories together just as the grocery stores do. 
Contain and label.